Tell me your story
PROJECT TELLMYS BRINGS TRANSPARENCY INTO THE CLOTHING SUPPLY CHAIN, SO CUSTOMERS CAN MAKE AN INFORMED PURCHASE DECISION.
ABOUT
Sustainability in the textile industry is an issue, which needs a complex and innovative approach. Evolution of society caused the textile industry to be in the top 5 industries causing environmental harm (see works of James Conca, environmental scientist). This topic is related to everyone, since never before humanity faced real loss of drinking water, drainage soil, climate crisis, gender inequality & new age slavery in textile factories. Report Pulse of Fashion Industry found that consumer awareness of environmental and social sustainability is gaining more than by one third; surveyed consumers reported they have switched from their preferred brand to another for reasons related to responsible practices. Society would like to make responsible decisions, yet we don't have enough information for it. We live in a modern society, where technology is the most effective way of obtaining information and blockchain is the technology of the future.
Sustainable fashion market is growing, involving local farmers, producers, studios with lower CO2 footprint, supporting markets and economy of regions. With that grows a number of customers searching for this kind of producer (see articles of Olivia Pinnock, fashion journalist). What's missing is the innovative and effective way of connecting them, and that's our project: Tell me your story. Information about producers and products will be available through mobile app and webpage, and consumers will be able to make decisions based on quality and complex information. Our project contributes to more transparency, reliability, traceability and objectivity in the textile industry with blockchain.
Ecosystem consisting of mobile app and web portal integrated on blockchain are connecting textile and fashion producers with customers. Producers will let customers see information about origins of their clothing through the story of the products provided in the system. Every piece will have its unique code. And to store the information, we will be using blockchain – an open, public and decentralised system. Sustainability, transparency and traceability are the main attributes of our project, which aims to stimulate consumers to make informed purchase decisions. In the first place we aim to support B2C but also B2B relations, as well as support meaningful usage of the newest technologies. The main goal of all partners is to create a database of local and sustainable clothing producers, including their company and product details, then reach out to them with an effective marketing strategy and offer them an effective tool to communicate their products' stories to customers. The social environment of our target groups is going to change too, as more customers will require the "product story" before purchase, therefore more producers, designers and stores will use the blockchain solution.
V4 market always had quality local production, yet producers are lacking space to share story and info about clothing they produce. On the other side, customers have to look for info at different sources, and usually find only partial info. SK is a small market for implementing the suggested solution, and it is too small to generate relevant outcomes for further development of the solution. Current legislation in V4 supports smart usage of blockchain for regional prosperity. Project supports cooperation and participation of V4 in sustainability topics. It will connect partners, local producers, stores and customers, and extend possibilities to participate in developing sustainable solutions in the fashion industry. After the project ends, we aim to share V4 good practices to motivate actors in other countries too.
OUR MISSION
TELLMYS means TELL ME YOUR STORY and that is what this adventure is all about – starting with the stories behind our clothing, from people involved in its production to environmental impacts of it. Real and verifiable stories, which cannot be misused thanks to the new and innovative blockchain technology.
OUTPUT OF THE PROJECT
The outcome of this project is an informational platform mapping stories of fashion garments within Visegrad countries. Designers, brands, producers and sellers have a great opportunity to share not only basic info of their products, but also the essence of the brand and the story of the certain fashion design or concrete product. This kind of sharing creates a trust of the customer and helps us to move towards a more ethical, transparent and clean fashion industry.
WHY?
Textile industry is one of the most polluting industries today. Negative environmental impact of textile production is unquestionably huge and the consequences of it are affecting all of us. On top of it, the social aspect of this industry is behind human and we openly speak about new age slavery – textile workers are mostly women under 30 and child labour is common and accepted by many.
On the other hand the end users/buyers of fashion garments are more educated and want to make more informed purchases. They want to know more about the product they are buying and to support ethical production.
HOW DOES IT WORK
The fashion garment you've just bought or were gifted has a brand label, a care label and something else – a label with a QR code. Maybe you are curious, maybe you know, what's that all about. You scan the code and your screen shows you… a story. Story of a brand, story of people who made the fashion garment you are just holding in your hands, the studio where it was made, production line or store, maybe a story of materials used. It's a first step towards transparency in the fashion supply chain – we have the right to know who made our clothes and what they are made of. All this is now just one scan with your phone away.
WHO'S BEHIND IT
Tellmys is a project implemented by a group of enthusiasts. People who believe in innovation, transparency and values. Blockchain, as a tool to provide as much transparency and reliability as possible, ensures that information cannot be erased or amended without a track. The slow fashion aspect of this project wasn't picked by coincidence either – small brands and designers want to communicate their stories, but these are mostly lost in the moment of the garment sale. Connect these two and you find TELLMYS – a perfect service for the customers who want to be well informed.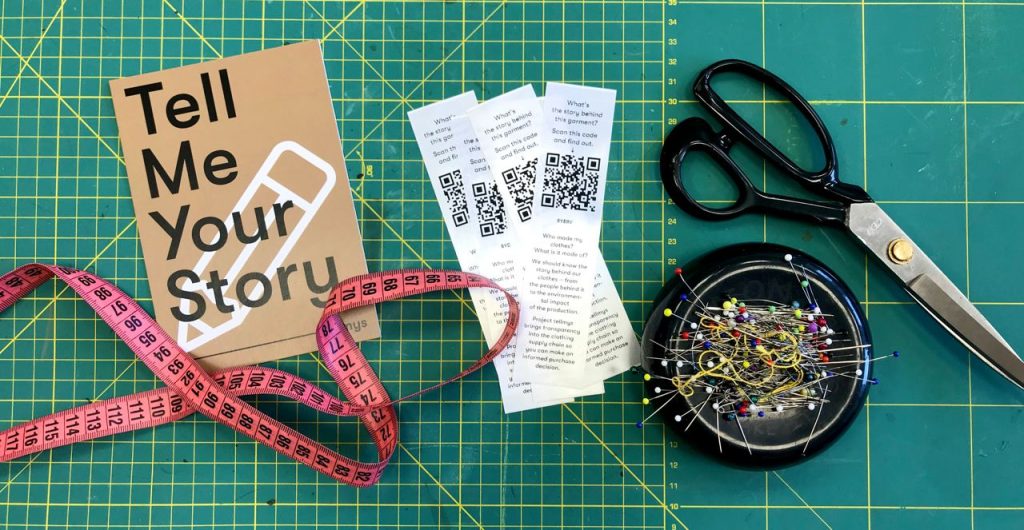 DEVELOPED BY NITKA, O.Z.
Project partners, fashion designers and brands from V4 communicating the story behind their garments
● National Fashion League Hungary Association (HU) – organisation merging Hungarian producers, designers, professionals of the clothing and fashion industry
● Fashion Revolution Czech Republic (CZ) – Czech branch of worldwide movement Fashion Revolution fighting for transparency in fashion industry
● Slow Fashion Cafe (PL) – Sewing School and point for local fashion designers and makers